Bestwina – The Zygmunt Bubak Regional Museum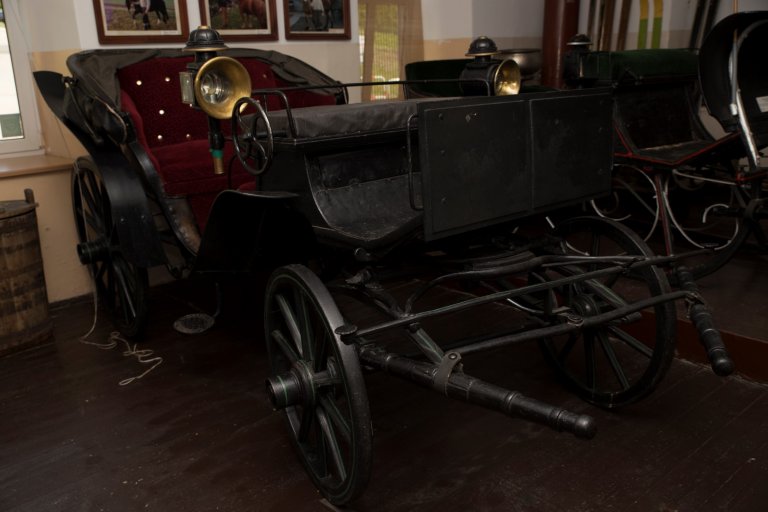 The Zygmunt Bubak Regional Museum in Bestwina boasts a very interesting exposition. At the entrance, we can visit a coach house with very interesting coaches – a carriage used during important celebrations and a sleigh.
Next, there are all kinds of machines and farming tools from the turn of the 20th century. Another room presents reconstructed interior of a village house. Inside we find typical equipment – a stove, chests, washtubs and washboards, box irons, pots for cooking meals for the whole family, etc. The visitors' attention is especially drawn to holy paintings hung on the wall at a slant to achieve an effect of the saints "looking" at the people in the house. It was also done in order to place valuable things behind them. We find all these things in so-called "Józef room" dedicated to everyday life. When we proceed we enter the "piykno izba" (beautiful room) – in other words, a festal room where there are a lot of devotional articles, beautifully made beds with downy pillows, festal garments (including the Lachy costume) and the paintings of the local artists. In the so-called religious room, there are relics connected with the church in Bestwina. In the weaving department, there is an old weaving shop and the flax and yarn processing devices – scutchers, a niddy noddy, a spindle whorl, wooden spinning wheel.
The historical department is the final museum exposition. Here we find the 13th-century excavations, documents, and objects connected with the local history. The archduke's pipe is an especially interesting item and every visitor should pay special attention to the Country of Bestwina Jurisdiction Book. Outside an apiary must be seen.
The Museum offers all kinds of lectures and classes – such as "From a grain to a bread loaf", "How it used to be in the villager's house", "About honey and the Bestwina bees" – a seasonal one in the Slavic Apiary and workshops such as: "Soap and perfume", "Paper-making", "Birds on the twig", Easter palms making, wicker making, weaving, Advent and Christmas wreath making. Every month visitors are invited to a new temporary exhibition.
---
Muzeum Regionalne im. ks. Zygmunta Bubaka
43-512 Bestwina, ul. Kościelna 57
tel. (+48) 32 214 15 87
e-mail: muzeum.bestwina@wp.pl
www.muzeum.bestwina.pl