Skład Niearchaiczny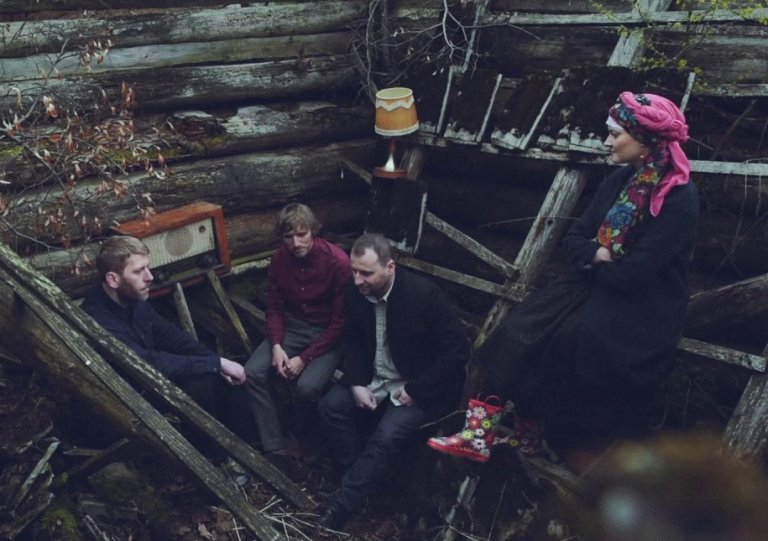 from the Żywiec Beskids
A native of Lalik, Żywiec and Jeleśnia: Marta Matuszna-Wejchenig (violin, vocals), Przemysław Ficek (bagpipes, pipes), Rafał Bałaś (double bass, vocal), Stanisław Bafia (viola, vocal) form the Skład Niearchaiczny. Non-archic, because it has a wider instrumentation (than an archaic composition consisting of a piper and a violinist) and constitutes proof that the music of the masters from Beskid Żywiecki is a living art and can be developed and enriched in a conscious manner. The artists try to get to the heart of Beskid music and find the potential hidden in it – a source of inspiration.
The band was formed in 2016, although its members have known each other for a long time and they play together not from today – they met in such bands as Besquidians,Wałasi band, Karpatia. For the first time they performed together at "Potańcówka przy dudach" (Dancing with bagpipes), which they organized in Stara Karczma in Jeleśnia. In May 2016, they decided to realize their idea of reinterpreting the music of the Beskid masters that had been dormant in their heads for a long time – above all the Kapela Byrtków, Sordyl Sisters from Korbielów, pipers from the vicinity of Pewel Wielka. Whoever has heard their music knows that this characteristic pulsating style of playing the melody, free improvisation and trance sound is a phenomenon that nowhere else in the world can be found.
Skład Niearchaiczny was noticed during the XXVI International Festival of Folk Music of Mikołajki Folkowe 2016, and awarded with Złote Gęsi at the Polish Radio Music Festival New Tradition in 2017. In the same year, they also took part in the Czech Music Crossroads event, which precedes the legendary festival Colors of Ostrava.
Apart from playing, musicians engage in many projects promoting folk music and traditional dances. They cooperate, among others with the Golec Brothers Foundation. They organize workshops, build instruments and teach to play on them. They are also the originators of the "Potańcówka przy dudach" in Jeleśnia.
---
website: www.skladniearchaiczny.pl
---