Čičmany – Wooden Houses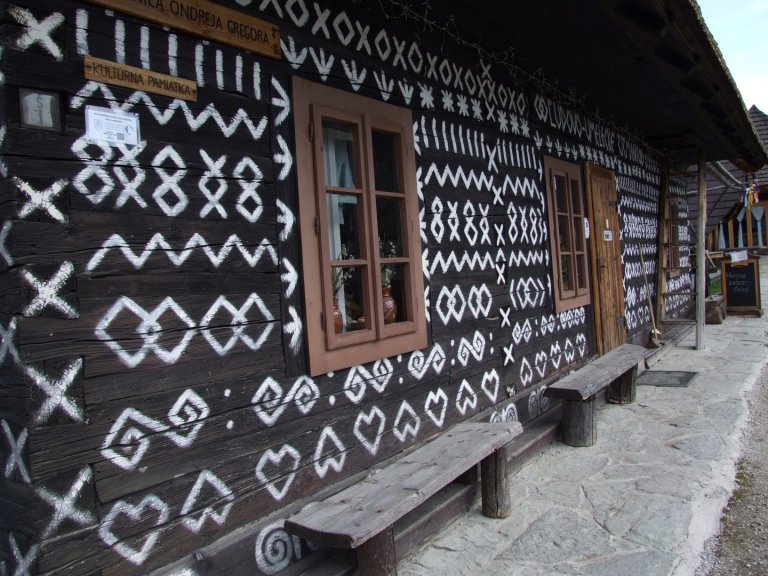 In spite of the fact that the village Čičmany is famous for its collection of folk architecture – beautifully ornamented wooden houses, you don't have to be afraid of the wave of tourists and long queues – actually quite the opposite. The visitors are welcomed by the blissful tranquillity which helps to feast their eyes upon magical design and colours of the houses as well as nature itself.
Where does this idea of ornamenting houses with white designs come from? Reportedly it was the best way to prevent the houses from warming up. Therefore now we have more than 130 houses painted with the white paint – a phenomenon which has no match in Central Europe.
The beginnings of the settlement in Čičmany village go back to the 13th century. There are certain legends whih say that there were about the Bulgarian settlers who presumably arrived there in the following century. They are said to have learnt the local people the technique of painting the houses white in order to protect them from the heat. We don't know though if this tradition dates back that long since the oldest houses are not older than 200 years old.
There is one house – two storey Raden's House which is unique among the others. It was reconstructed in the 1950s after the fire. It houses a museum. There are everyday objects there and we can learn about the life of the local inhabitants there as well. We can also see traditional folk white costumes, tools and small bedrooms upstairs. Exposition is complemented with Karol Plicka's photographs showing the inhabitants of Čičmany from the 1920s and the 1930s.
The village is inhabited by 150 people and it is situated at the foot of the Strážov Mountains in the valley. A few kilometres from this place the busy route from Žilina to Prievidza runs. It is the simplest way to get there although you can also try a route from Zliechov across the mountains. If you get tired of folklore you can go trekking in the local mountains, especially a red trail is an interesting one because it is located in the deep valley of Strażov (1213 m.).
---
Považské múzeum v Žiline – Objekty ľudovej architektúry Čičmany (Expozícia)
013 17 Čičmany
tel. (+421) 41 500 15 11, (+421) 918 187 683
e-mail: cicmany@pmza.sk
www.pmza.sk