Gwarek Zuzanna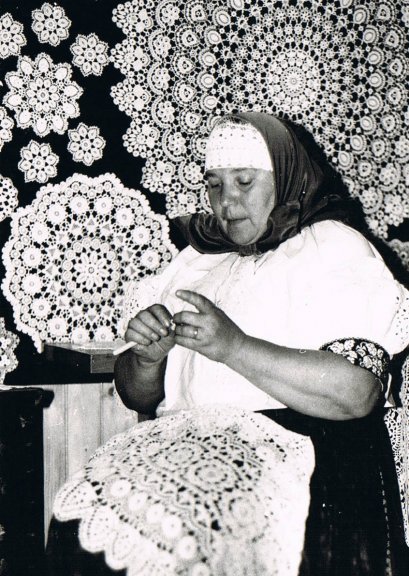 from Koniaków, born in 1937 – d. 2015
One of the best-known Koniaków lace-makers. She was born on April 30, 1937 in Koniaków, and died there on November 19, 2015. She made Koniaków lace from an early age together with her mother Anna Legierska. She made tablecloths, napkins, serviettes, treads, vests, blouses, dresses, gloves, inserts for clothes, collars, so-called browband for folk bonnets – about the design from the interwar period, enriched with new solutions and the ornaments that she developed. For the products she used a white and cream cord, especially imported from the Czech Republic and Turkey. Her lace was distinguished by a careful workmanship and a beautiful composition of decorative motifs.
In 1952, she joined the Regional Song and Dance Group of Cognacs as a dancer and singer; she also took care of preserving the authentic Koniaków costume. From 1958, she crocheted for the Armenian People's and Artistic Cooperative in Katowice. After the death of her mother-in-law, the master of the maiden Maria Gwarek, in 1962 she took over the running of the cooperative and together with her husband Erwin Gwarek (manager of the Koniaków team) they gathered souvenirs of an outstanding lace-makers in the old house. In 1980, the Memorial Room of Maria Gwarek, commonly called the Lace Museum, was established in the new home, where up to now you can see many unusual lace (including the famous, unfinished drape ordered by Maria Gwarek by the English Queen Elizabeth) and the oldest traditional designs.
Zuzanna Gwarek cooperated with Cepelia, museums and cultural associations for many years. She belonged to the Folk Artists' Association. She was involved in training new lacemakers, she also trained her daughter. She participated in many competitions and folk art exhibitions throughout the country (including Cieszyn, Żywiec, Bielsko-Biała, Bytom, Katowice, Lublin, Krakow, Warszawa), winning prizes and distinctions everywhere. She participated many times in fairs of folk art and folklore events.
She was honored with many diplomas, medals and prizes. She received, among others Silver Cross of Merit, Badges of the Meritorious Activist of Culture (1982) and Meritorious for Cepelia (1984), Laurel of Silver Cieszynanka (2006). In 1989, she was awarded the Oskar Kolberg Award.
---