Jankowski Feliks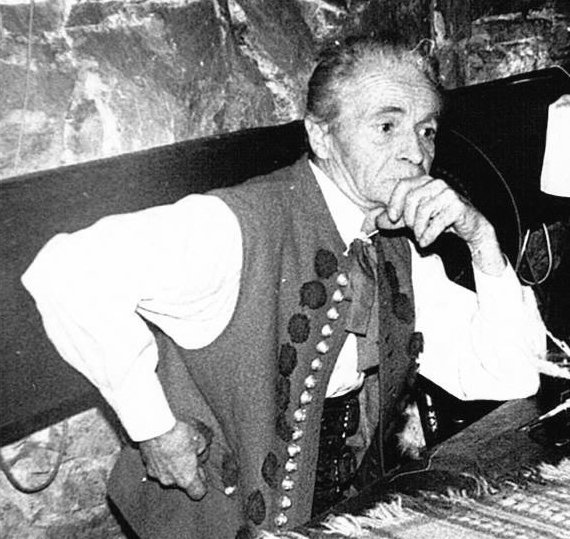 from Żywiec, born in 1926 – d. 1994
Musician and instrument builder. He was born on May 17, 1926 in Żywiec, he died on June 16, 1994. He was a glider instructor. First, he flew on the gliders in Jeżów Sudecki near Jelenia Góra, then until 1951 he worked at the gliding school on Żar Mountain. Then he moved to the Żywiec Cooperative of People and Arts Pilsko. In the years 1962–1981 he was the head of the day-care center there and at the same time he was the administrative and economic manager of the Pilsko Regional Song and Dance Group. He joined the group a few years earlier. He was one of its founders in 1954 and from the beginning played in the band; he also performed as a soloist. He played on the horn, ocarina, trombita, pipes, bagpipes – also after switching to a pension in 1981. Together with the Pilsko band (the only one he got involved with) he performed in Poland, on the stages of several European countries, and even in Canada and the USA. He took part in radio and television recordings and in the full-length movie "For a year, in a day, in a moment". He recorded the original cassette. From 1979, he belonged to the Folk Artists Association in Lublin.
Feliks Jankowski also built bagpipes – he made the most difficult three months. He tried to make each copy different, that's why individual bagpipes differed in intricate inlays. It is worth mentioning the new technical solutions used by the artist, such as cork connections, pipes (reeds) of elderberry, metal end squeaks instead of wooden ones and others, which – unfortunately – will remain its mystery forever.
Feliks Jankowski – thanks to innate musicality, persistent self-education, huge diligence and excellent knowledge of instruments – was undoubtedly a master of the game on Żywiec bagpipes. He won many valuable prizes both as a soloist and as a member of an authentic band on prestigious reviews, including Confrontations of the Bagpiper's Bands in Poznań, Folklore Festival of Polish Highlanders in Żywiec, National Review of Polish Folk Bands and Singers in Kazimierz near Vistula River, National Competition for the "Gędźba" Ancient Instruments in Szczawnica or the Competition for Unique Music Instruments in Żywiec. He also received rewards for the instruments he built – in Bielsko-Biała, Żywiec, Toruń, Poznań and Szydłowiec.
He was honored for his activity with Gold Cross of Merit (1985), Badges of Merit for Cepelia (1984), Meritorious Activist of Culture. In 1987, he was awarded the prestigious the Oskar Kolberg Award.
The bagpipes built by Feliks Jankowski still are used by the best bagpipers.They appreciate them for their precise performance and, above all, excellent sound. Instruments are also found in the collections of ethnographic museums in Toruń, Łódź and Żywiec, as well as the Museum of Folk Musical Instruments in Szydłowiec and Museum of Musical Instruments in Poznań. They have in their instrumentarium national and foreign bands (e.g. from Belgium), which included in their repertoire folklore Polish highlanders and privately collectors from Spain, Italy, Germany, Japan and Canada.
---
http://ludowe.instrumenty.edu.pl/pl/instruments/show/instrument/4828
http://ludowe.instrumenty.edu.pl/pl/instruments/show/instrument/4631