Kastelik Rozalia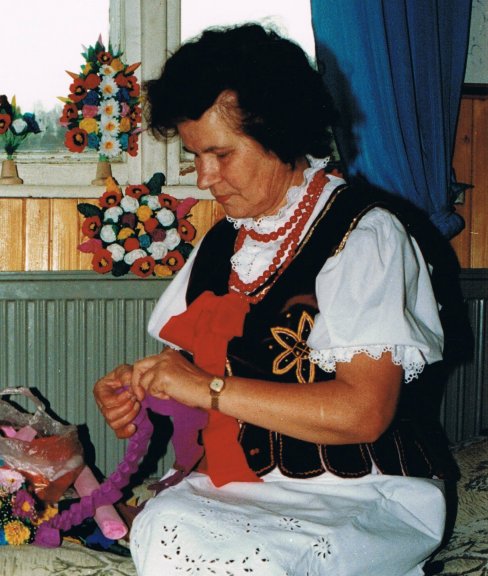 from Pewel Wielka, born in 1934
Master of tissue decoration. Daughter and the student of the excellent Żywiec florist Franciszka Uflant. She learned the art of flower making from her mother and sister, getting to know different techniques, styles and ways to build intricate compositions. For 40 years she has been drawing inspiration from nature, she makes flowers from notched paper (of various sizes, shapes, colors) and arranges wreaths, garlands, bouquets, trees, baskets and bows. She combines traditional aesthetics and individual preferences, delighting with the originality and craftsmanship of both traditional connoisseurs of regional decoration and buyers in the country and abroad.
She is a member of the Folk Artists' Association. He eagerly transfers her skills to others – as part of folklore education programs he runs classes for children and youth and workshops for teachers. She participated in the projects of the Regional Culture Centre and the Provincial Methodological Center in Bielsko-Biała, the State Ethnographic Museum and the Center for Culture Animation in Warszawa as well as many schools of the Silesian Voivodship.
From 1970, she has been taking part in traditional ornamentation competitions in Żywiec, Bielsko-Biała, Jeleśnia and Myślenice. She is a laureate of many awards. Her works have been presented at national exhibitions in Bielsko-Biała, Lublin, Kraków, Cieszyn and abroad in Finland, Germany, Sweden, Slovakia, France and Hungary. She enjoys participating in fairs of folk art and folklore events.
In 2010, she was honored with the Oskar Kolberg Award.