Kubik Czesław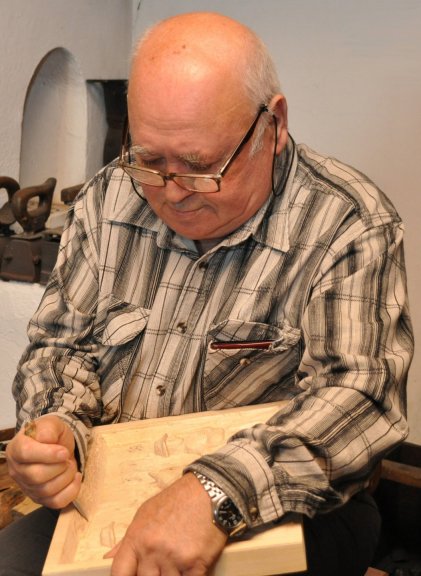 from Czechowice-Dziedzice, born in 1944
The most active and well-known creator of the region. He lives in Czechowice-Dziedzice, but comes from Bestwina. The childhood and youth he spent in the countryside what shaped his artistic sensitivity. He was not only an observer, but also a participant in rural customs and farm work. He began his adventure with sculpting in 1995 from storks made from branches of trees (they are still an important part of his offer). Then he carved the Pensive Christ – the first one still stands on the shelf next to several new ones, illustrating the improvement of the workshop. Then there were angels and for balance – devils. His output also includes many sacred sculptures – saint figures, nativity scenes and shrines. There are also rural women with a cupola or a rooster, Silesian peasants with pigeons, sculptures illustrating various professions, Jewish and highlander bands. There are illustrations of customs.
Czesław Kubik carves exclusively in linden wood – most often they are painted (mainly with poster paints), and then varnished 20-, 30-, 40-centimeter figurines. His Patterns change, only one is permanent – Saint. Francis. I sculpt my way, as I see it. I do not try to be simplistic, on the contrary, I try to expose the characteristic details of the character. I am consistent in my work, he emphasizes. His artistic interests are supported by embroidery – wife Maria Kubik.
Since 2000, he has been a member of the Folk Artists' Association. He is happy to take part in competitions (about an inspiring, challenging topic) and fairs and fairs of folk art – in Szczyrk, Opole, Chorzów, Zakopane, Poronin, Bukowina Tatrzańska, Kazimierz on the Vistula, Żywiec. He is the winner of many awards and distinctions, as well as a scholarship from the Minister of Culture and National Heritage, under which in 2017 he carried out the project "Selected agricultural works and rural customs in an annual period".