Biegun Teodor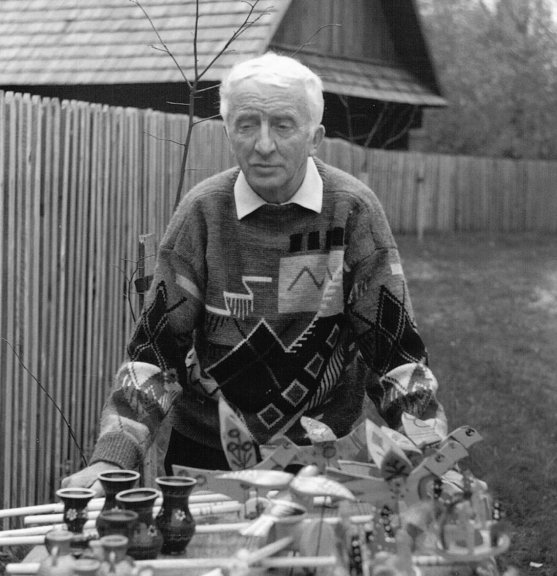 from Lachowice, born in 1925 – d. 2009
Continuator of the family tradition of making wooden toys. He was born on July 12, 1925 in Lachowice. He lived in Żywiec, where he died on April 10, 2009. He made toys since 1940, referring to design dating back to the 19th century. He used simple, traditional tools. As a result, his products (britzkas, carts, wheelbarrows, carousels, "klepoki", ponies called racers) had characteristic, individual features – rich colors, floral and geometric ornaments. Wooden ponies were the most popular.
He cooperated with Cepelia and the Krakow-based Millenium cooperative. From 1951 a member of the Folk Artists' Association. He initiated projects promoting a folk toy, which greatly contributed to the popularization of this field of folk art and its representatives. The Gallery of Folk Art, run by him since 1990, also served this purpose. He participated in fairs and fairs of folk art organized throughout Poland. He presented his toys in Germany, France, Hungary, the Czech Republic and Slovakia.
Teodor Biegun was awarded the Minister of Culture and Art prize for special achievements in popularizing folk art (1996), the Silver Cross of Merit (1998), the Silver Medal of Jan Kiliński for his services to the Polish craft (1998) and the Oskar Kolberg Award (2000).
His works are in the ethno graphic collections of museums in Toruń, Szydłowiec, Żywiec, Rabka, Bielsko-Biała, in the Toy Museum in Kielce and in the Institute of Ethnography at the Poznań University.