Boczek Michał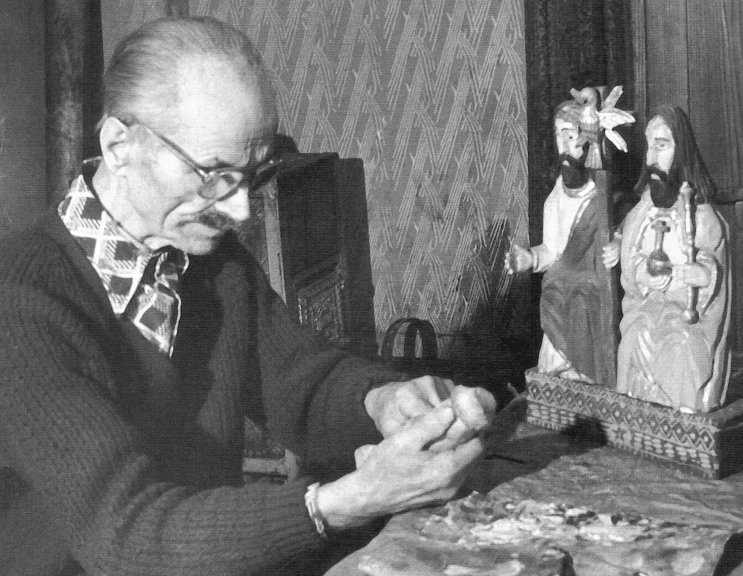 from Rajcza, born in 1900 – d. 1988
Authentic folk artist, unique personality. He was born on September 10, 1900 in Jeleśnia. He lived in Rajcza, where he died on January 23, 1988. He dealt with sculpture, painting on glass and canvas, he also created graphics. He used old designs, read books about art, and often visited museums. His first master-teacher was Ignacy Dunat – a shepherd with unusual imagination, the author of the carved scenes of Passion in the chapel on Janikowa Grapa.
The subject of Michał Boczek's sculptural works was varied. Sacral performances dominated, connected with the life of Christ, the Mother of God, the Holy Trinity and saints. Most preferably, however, he created images of his patron Saint Michael the Archangel. He also put forward secular subjects related to the everyday life of highlanders and their folklore – he represented musicians, carol singers, highlander dances, and weddings. In addition, he carved historical figures, built cribs. Usually he used linden wood, figurines painted tempera or poster paint, rarely left in the raw state or stained.
The sacred theme dominated in his paintings on the glass: Christ Crucified, Holy Mother and Saints. When painting cartouche pictures, he referred to both Żywiec variation – with a characteristic white background and a garland ornament made of plant elements as well as the Jeleśnia variety. He also tried his hand at oil painting on canvas (Balkan landscapes associated with the memories of World War I, few portraits, landscapes of family sites).
Michał Boczek was able to skillfully, with great feeling, use the elements of tradition and combine them with his own means of expression. He was an excellent colorist – he used the colors to express the character and emphasize the decorative character of the folk image.
His artistic interests were not limited to creation. For example, he was one of the founders of the Regional Chamber of Creative Work in Jeleśnia (1973), where he showed his works for the first time, and also, which is rarely mentioned, he danced in the regional team of the Country Housewives in Jeleśnia. From 1974, he belonged to the Folk Artists' Association. He cooperated with Cepelia for 7 years.
For his work he has got many awards and distinctions in prestigious reviews of sculpture and glass painting. For example he was awarded, Knight's Cross of the Order of Polonia Restituta.
Michał Boczek's works can be found in museum collections in Warszawa, Krakow, Toruń, Nowy Sącz, Łódź, Rabka and Bielsko-Biała, as well as in private collections – in Poland, Belgium, Spain, Germany, Canada, Switzerland, USA, Italy, in the Vatican and in Hungary.