Bojko Jan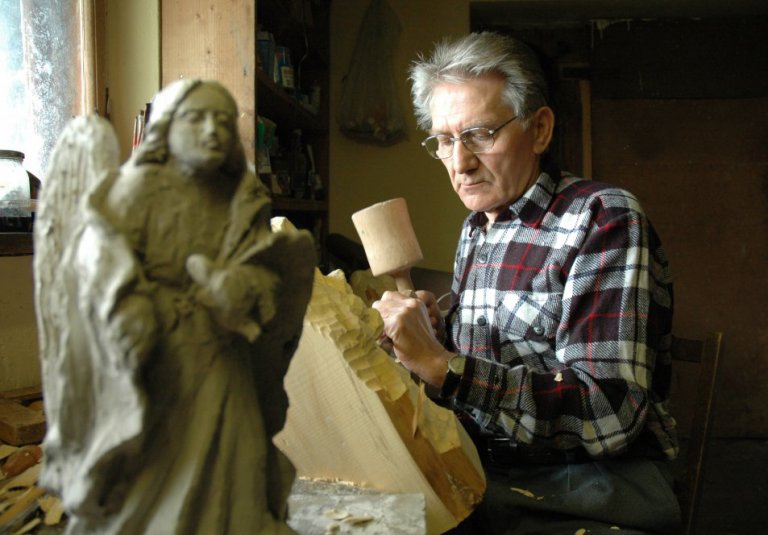 from Jaworzynka, born in 1934
One of the most famous and respectable sculptors of the Silesian Beskids. He was born in 1934 in Jaworzynka, where he still lives. He developed his artistic interests in a visual focus for gifted youth in Istebna-Andziołówka, under the direction of Ludwik Konarzewski. He learned the secrets of sculpture, drawing, painting on glass and canvas as well as regional ornamentation.
In the early period of his works (1950s and 1960s), he made bass-reliefs illustrating the daily life of village residents, rituals, customs, games and legends. He presented works and activities on the farm and in the homestead (for example, women milking cattle, women making butter, school workers, figures of sowers, plunders, shepherds, genre scenes in the hall, robber scenes, musicians). Along with the improvement of workshop skills and gathering experience, figural sculptures appeared and the scope of the theme was widened – for sacred works. Jan Bojko undertook the performance of the Christ of the Pensive and Crucified (favorite theme of the artist), scenes of the Way of the Cross, Piet, figures of saints, angels and cribs.
Jan Bojko sculpts mainly in linden wood (he also tried in stone). He treats the ancient canons of folk sculpture as a starting point for an individual presentation of the theme. He usually leaves his works in the raw state, sometimes covered with polychromy. Occasionally he does painting on glass and canvas, linocut and woodcut.
In the 1950s he cooperated with Cepelia. He is a member of the Folk Artists' Association and a regular participant in exhibitions, competitions and fairs. In 2009 he received the Oskar Kolberg Award.
The artist's works can be found in museums and galleries throughout Poland (in Wisła, Bytom, Gliwice, Bielsko-Biała, Warszawa, Cieszyn, Nowy Sącz, Rabka, Żywiec), as well as in private collections, churches and foreign collections (in Germany, France and the United States).