Czechowice-Dziedzice – The Regional Chamber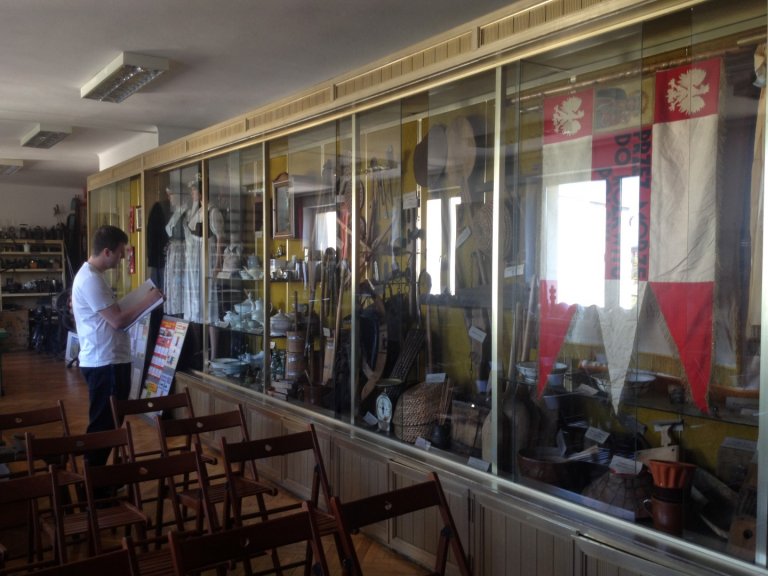 The Czechowice-Dziedzice Regional Chamber is located in the Town Culture Centre. The first mission of the Chamber is collecting and securing monuments connected with the history of the region, with the past and tradition of town. The second mission is facilitating and using those monuments in didactic and pedagogic work. The exhibits were collected by the members of the Association of the Friends of Czechowice-Dziedzice (the Chamber is the seat of the Asociation), teachers, collectors, scouts and the inhabitants of the town.
The items collected here refer to ethnography and history of the local industry meaning the match factory, the rolling mill factory, and the refinery. At present, there are 2550 document files and photographs, 1150 books about the region, 275 exhibits referring to technical culture and 126 ethnographic exhibits. Quite a big number of exhibits includes – standards, firefighting relics, farming tools, everyday objects, school benches, school accessories and also the 19th-century folk costumes of a married woman and a bride from the Cieszyn Silesia Region. One of the most valuable monuments is a trough cradle, made of one piece of lime tree block using an axe and a wood chisel. It was used to make bread dough, potato pancakes, flatbread, and kolach. It functioned also as a cradle for a newborn baby because its semicircular bottom enabled rocking.
Every month lectures on "The history of town and industry", "The history of the Cieszyn Silesia Region" and "The history of Poland" are held at the Town Culture Centre. All kinds of workshops and regional classes are organized especially for children. Exhibitions on the cultural heritage of the town and the region are organized as well. The Czechowice-Dziedzice Regional Chamber together with the Association of the Friends of Czechowice-Dziedzice are also engaged in broad publishing activity (52 books were published).
The Czechowice-Dziedzice Chamber has very interesting prospects for development what is connected with planned opening of the museum in a new, bigger and better-adapted building (the idea involves making use of some part of the railway station).
---
Miejski Dom Kultury – Izba Regionalna
43-502 Czechowice-Dziedzice, ul. Niepodległości 42
tel. (+48) 32 215 32 85
www.towarzystwo.czechowice-dziedzice.pl