Glinka – The Regional Chamber Gronicek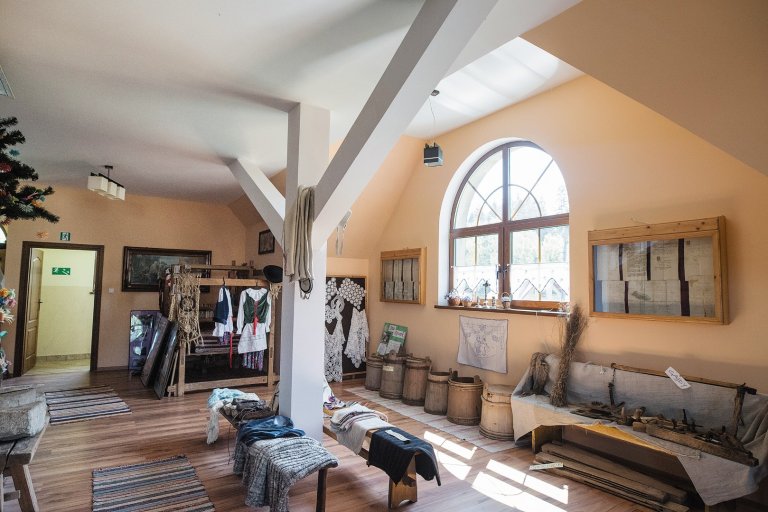 Glinka is situated in Ujsoły Rural Commune in the Żywiec Beskids region, on the border with Slovakia. It was founded in the 18th century in the picturesque valley of the stream having the same name.
The Farmer's Wives' Association along with the Village Council have been collecting objects connected with the local culture and the local people's lifestyle since 2000. EU financial resources helped to convert unused building into exhibition area in 2010. It is full of objects and documents connected with the everyday life of a village. You can find traditional folk costumes here as well as instruments, machines and devices used in households (looms, carrying poles, chaff cutter, wooden pots, quern-stones, etc.) and handicraft – lace, tissue paper flowers, embroidery.
The Regional Chamber Gronicek functions also as an educational and recreational center. It is used in all kinds of activities connected with the promotion of culture and running clubhouse classes. There are artistic workshops conducted here along with small cultural events and exhibitions. The Farmer's Wives' Association offers handicraft and traditional dishes cooking classes to all those who are interested. It is a place where local village organizations and associations meet along with youth and family ones.
Near the Chamber, there is a didactic path created – a type of a small open air museum where you can see machines and devices used for field work in old times.
---
Izba Regionalna Gronicek
34-371 Ujsoły, Glinka
tel. (+48) 33 864 70 48, (+48) 33 862 59 51
www.ujsoly.com.pl