Hulka Anna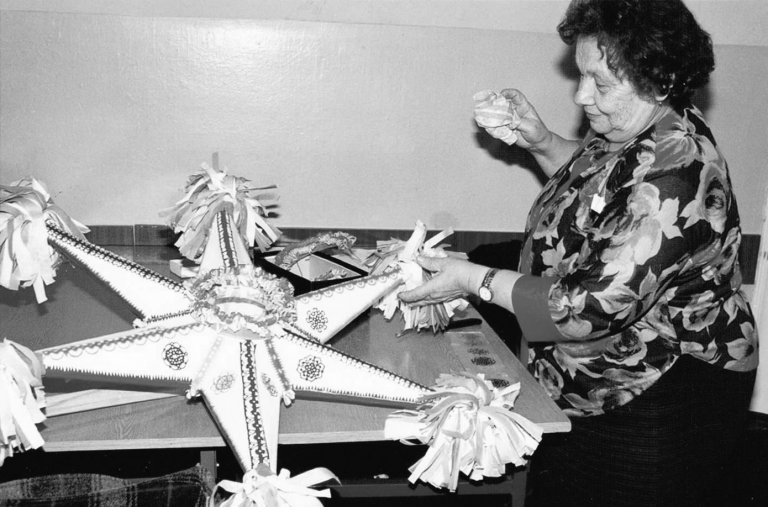 from Łękawica, born in 1925 – d. 2009
An authentic creator, deeply connected with rural realities and rural tradition (with its specific vision, understanding and interpretation of the world). She belonged to the group of the most outstanding contemporary folk artists. She was born on May 12, 1925 in Łękawica, where she died on May 8, 2009. She started her adventure with art from tissue ornamentation. The prizes obtained in this field (1973, 1974) did not fully satisfy her. So she started helping her husband Józef Hulka. He sculpted figurines, built cribs, made multi-arm constructions from slats for carol singers. She gave them the final artistic expression – refined details, painted figures, prepared puppet costumes, adorned the stars with colored paper ornaments and colored pompons of tissue paper. At the instigation of her husband, she also began to paint on glass, recording genre scenes from the life of the village, ancient rituals, historical figures, and even literary ones. The main motive of her works, however, has become sacred subject: images of the Rychwałd Mother of God, Queen of Poland, Queen of Polish Families, Advocate and Consoler; Christ – Crucified, Pensive; figures of saints and biblical scenes.
Anna Hulka cooperated with Cepelia, she belonged to the Folk Artists' Association. She presented her works at bazaars in the country (in Bielsko-Biała, Żywiec, Zakopane, Kazimierz, Kraków) and outside its borders (in France, Germany, the Czech Republic, Slovakia, Hungary). She won many awards and distinctions, mainly in glass painting and ritual art competitions (in Toruń, Rabka, Nowy Sącz, Żywiec, Bytom, Bielsko-Biała and Kraków).
For her outstanding achievements in the field of folk art she was honored (together with her husband) with many medals, decorations and prizes, among others prestigious Oskar Kolberg Award (1992) and the prize of the Minister of Culture and Art (1998).
The artist's works can be found in ethnographic museums, art galleries, private collections, as well as in her own, existing since 1991, creative chamber of Anna and Józef Hulkowie in Łękawica.
---