Łękawica – Józef Hulka Artistic Chamber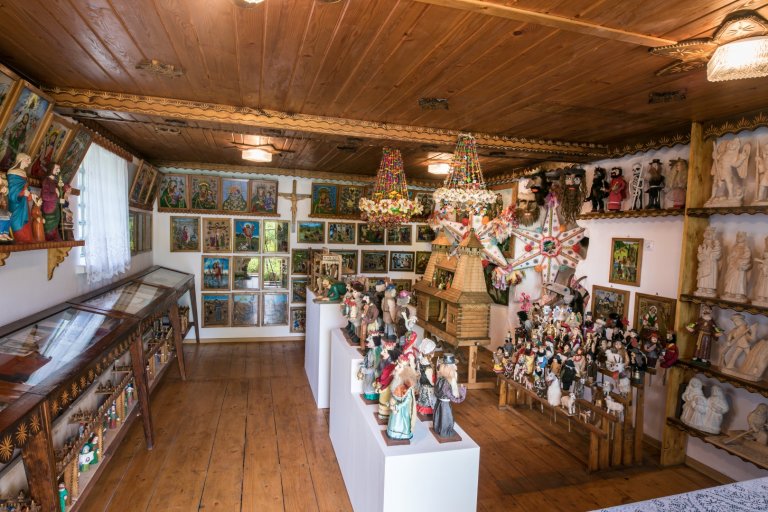 Józef Hulka from Łękawica belongs to one of the most outstanding raw folk artists. He possessed the skill of preserving and handing down specific folk understanding of reality.
He is a sculptor, he paints on the glass and, creates ritual art and he achieves mastery in all these areas. His style is characteristic, easy to recognize. His favourite themes are saints, biblical scenes, gospel events, he also does genre scenes and historical figures. There are different versions of the same theme – sometimes a full sculpture or a relief (mostly a wooden one – in a lime tree, an alder or a birch). Most often it is left raw but sometimes it was painted and this was Anna Hulka's activity. Unfortunately, Józef Hulka's wife died in 2009. They often worked together.
Wood is a basic sculpting material of a master from Łękawica. As a mature, recognized artist, Józef Hulka started to work in a stone as well. Lately, being 92 years old, he has tried to do linocut. As a boy he started making props for carol-singers – stars, nativity scenes -characteristic ones with two towers and several floors, figures, masks, and goats. Not only did Hulka create the nativity scenes but he also went wassailing with them in the village, during which a puppet nativity play was presented. The old folk carols that he still remembers are real treasures to folklorists.
In 1990 he and his wife started this Anna and Józef Hulka Artistic Chamber in their family house. We can see works that have been collected throughout their whole life. It is a place where one can learn about wonderful and impressive works of art of this folk artist. If we add that it is also possible to meet Józef Hulka in person and see an original nativity play – that means that this place is really worth visiting. Józef Hulka is a man of numerous talents, still curious about the world, he willingly takes up new challenges, is keen on talking and sharing his memories and opinions, still writing and having verve for acting. In spite of his difficult life, hard work and duties he still has a desire and joy to create. He shares it with all those who are willing to experience it.
---
Izba Twórcza Józefa Hulki
34-321 Łękawica, ul. Twórcza 16
tel. (+48) 33 865 16 67