Kawulok Jan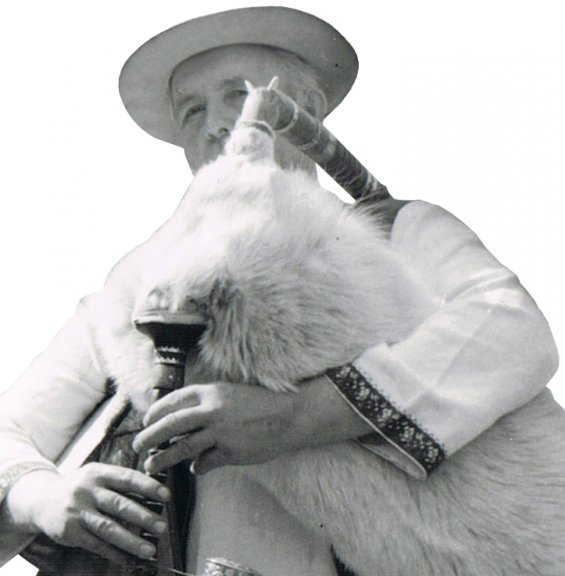 from Istebna, born in 1899 – d. 1976
A man with an extraordinary personality and many talents. Instrumentalist, folk instruments builder, storyteller, activist and folklorist amateur. He enjoyed great popularity and recognition. He gained his interest and respect for tradition from his family home. His father Michał Kawulok was not only an excellent singer and storyteller, but above all an activist who always emphasized the Polishness of his native land and defended the interests of the highlanders everywhere. He was called the "King of the Mountains".
Jan Kawulok, born on September 20, 1899, was famous for his outstanding musical skills. He played with his brother from an early age. At the age of seventeen, he constructed the first gajdy – an extremely complicated instrument. Later, he built trembites, shepherd's horns, saber-style sash, pipes and owls – outstanding sound and aesthetic values. Before the Second World War, he made copies of old folk instruments which museums ordered. After the war he carried out Cepelia's orders.
Jan Kawulok played for a short period of time in the band's band founded by Rudolf Szotkowski. In 1952, he became involved with the Regional Song and Dance Group of Koniaków, with whom he collaborated for over twenty years, until his death. He ran a band in it (in which his daughter Zuzanna was playing), he was also a representative soloist. He has performed with Koniaków throughout Poland and in many European countries. He was always present at folklore events organized in the Beskidy Mountains. He took part in radio and television recordings. Many specialists used his knowledge and knowledge of the musical tradition of the Silesian Beskids, including Stanisław Hadyna preparing the program of this region for the Śląsk team.
Jan Kawulok wanted the Folklore of the Silesian Beskids to know as many people as possible. That's why – in an old family house built in 1863, which is a perfect example of highlander architecture – in 1958 he created a kind of museum. At the beginning of the 1960s, the Kawulok hut, full of hand-made instruments and furniture, often visited numerous trips. Jan together with his daughter Zuzanna showed the process of building simple instruments to tourists, and later they played on them. Over time, due to the increasing interest, they limited themselves to concerts on unique folk instruments. After the artist's death (May 13, 1976) his wife Franciszka was the guide in the chamber, and above all the daughter, whom he gave all his knowledge, love and respect for native culture.
Jan Kawulok had one more talent. The locals called him a "repairer", because for decades he had set broken bones for people. Many people still remember that he also had extraordinary narrative and literary abilities. Not only did he talk greatly about local legends, fairy tales, applications, but he often enriched them with new threads.
Jan Kawulok received hundreds of diplomas and dozens of decorations. He was honored, among others, Golden Cross of Merit, Golden Badge in Service for the development of the Katowice Province, the Badge of Merit for Culture. Dozens of articles have been devoted to him, and photographs of his instruments are included in all studies regarding the musical folklore of the Silesian Beskids. He is also one of the first laureates of the Oskar Kolberg Award, which he received in 1976.
---
http://katowice.tvp.pl/22646309/15112015
---
http://ludowe.instrumenty.edu.pl/pl/instruments/show/instrument/4727