Siváň Štefan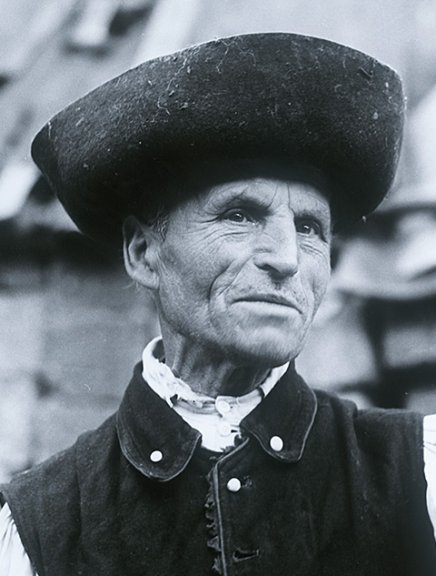 from Babín, born in 1906 – d. 1995
One of the most significant authentic folk artists of Slovakia. A progenitor of family sculptural tradition, endowed with a real genius. He was born on August 28, 1906. Before he began to sculpt, in 1920–1930 he made cribs with which from St. Łucja to the Three Kings he traveled through the lands of Slovakia, Moravia and the Czech Republic, singing carols. He was a farmer and wheelwright all his life. After working on the land, he created sculptures – on sacral themes, based on common iconographic schemes. In the 1960s, Štefan Siváň became interested in Slovak artists, theorists and writers. Under their influence, he began to make figures of various dimensions and diverse subjects. He searched for his own expression and special character traits. He created intuitively, wanting to capture spontaneously in his wood his own perception of life, his personality. He did not pay attention to detail or the highest quality of crafts (the sculptures were uneven, raw). Soon, his works became the object of interest for galleries, museums and private collectors. The Orava Gallery in Dolný Kubín acquired 95 sculptures created by the artist – it is the largest collection of his works in Slovakia.
In the work of Štefan Siváň, you can find dozens of topics that he often repeated and varied. The dominant figure was a rural man – at work and play, with joys and sorrows of everyday life. The artist sculpted farmers, shepherds, highlanders, musicians, as well as families (he often depicted a mother surrounded by children). There were also biblical topics from both the Old and New Testaments (including pieta, Madonna, Adam and Eve) and cribs that accompanied him throughout his life. The third group of works were animals: bears, horses, cows, deer, dogs and, of course, sheep; as well as exotic animals: elephants, camels, lions. Worth to mention must is that he also made wooden hives – women of life size – which delighted with the meticulous performance of details, although they were never used as intended. Each sculpture created by Štefan Siváň had its own story, which the artist, noteworthy an excellent storyteller, told the new owner at the time of handing over the work.
The works of the sculptor from Babín have been appreciated not only in the country but also abroad. Štefan Siváň regularly participated in the naïve art presentations in Bratislava. His sculptures could be seen in Horný Smokovec, Námestovo, Dolný Kubín, Východna and Nowy Sącz (Poland). In 1982 he participated in the excellent exhibition of modern traditional art in Paris. Finding himself among the most famous folk artists was the greatest reward for him.
The art of Štefan Siváň is unmatched. None of the other Slovak folk artists has been given such a power of imagination and creative invention as a talent – just like he. Small growth, but a great work in which an authentic, folk way of seeing, understanding and interpreting the world has survived – a peculiar tale of a simple man about his own land, everyday joys and sorrows.