Tatarka Ľubomír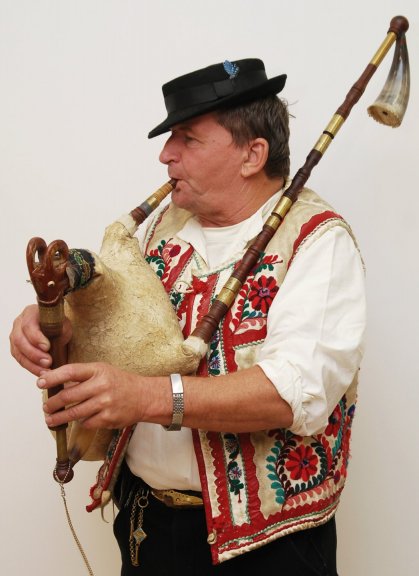 from Slovenská Ľupča, born in 1958
He was born on March 29, 1958 in Banská Bystrica, he lives in Slovenská Ľupča. He comes from a musicians family. Talent inherited from his father and his fathers parents: grandfather Tatarka from Hájnikova was a great musician, and grandmother Tatarkova from Detva an excellent singer. And so, Ľubomír from an early age was fascinated by the music, instruments and way of life of the people. As a twelve-year-old boy he made pipes, then reeds and scoops. He became interested with bagpipes thanks to one of his ancestors – bagpiper from Zvolenská Slatina. His grandfather stories about music and people from those areas fascinated him so much that he started to search for instruments, which he played at that time, creating his own collection. His inspiration were visits in the homesteads near Banská Bystrica – conversations with elders, shepherds, learning songs, listening to memories. What attracted him most was simplicity, modesty, great skills, determination and patience of this old generation – values that he cherishes and shares.
Ľubomír Tatarka has been playing bagpipe since the age of fourteen. He did not go to music school; he learned the songs and tunes from the grandparents, Juraj Michelík, Ján Plieštik, Ján Huďan and others. He played for the first time as a little boy at the side of Milan Štesko. He created his own style, which he constantly develops and improves, performing works from the area of Banská Bystrica, Podkoníce, Priechod, Lučatín, as well as from Hrochoť, Poníky and Detva.
In addition to playing and singing, like old masters, he deals with building instruments. He creates bagpipes in the key of F, A and D. Together with Jan Štesko he made bagpipes of the Podpoľanie type, and with Jurajom Dufekom bagpipes Inovec and Orava.
He took part in the bagpipers' meetings in Lehota and all the annual festival in Východna and FSP in Detva. He is eager to participate in folklore events both in Slovakia and in Europe, because – as he emphasizes – they are a great opportunity to meet people with similar interests, promote folk music, and thus gain new listeners and admirers.
---