Ficoń Anna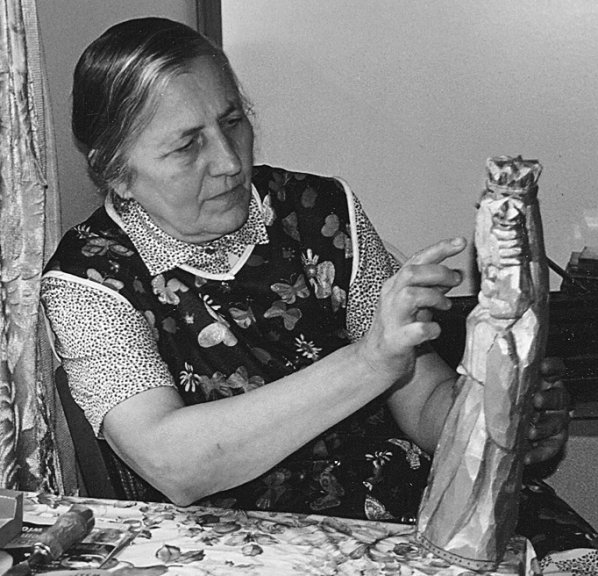 from Wieprz, born in1938 – d. 2016
One of the most interesting and the most honored folk sculptors in Beskid. Self-made and authentic artist; extremely hardworking, sensitive and modest. She was born on July 21, 1938 in Cięcina, she died on December 2, 2016 in Wieprz. Sculpt began in 1970 thanks to her husband Jan Ficoń, a well-known folk sculptor. From that moment, art was her asylum.
With lime wood, with straight cuts (without dealing with the detail), it brought out what is most important in the form or stage. She performed mainly lumpy, roughly carved figural sculptures (Madonna, Pieta, Pensive and Crucified Christ, saints), as well as bas-reliefs and cribs. In addition to sacral themes, she devoted the most attention to a rural woman, presented against the background of her family. Most of the figures were painted with poster paints or emulsions, securing with clear varnish or linen varnish. Only few left in the raw state, possibly stained. Seemingly simplistic, almost primitive sculptures by Anna Ficoń are imbued with pain and suffering, which paradoxically emphasizes the bright colors. It is worth adding that the artist – successfully – also painted pictures on glass.
Anna Ficoń belonged to the Folk Artists' Asosiation. She participated in many group and individual exhibitions (in Żywiec, Warszawa, Mysłowice, Wrocław), reviews and competitions of folk art of nationwide and international range. Her work has been awarded many times. She was honored, among others Award of the Voivode of Bielsko (1996), the prize of the Minister of Culture and Art (1997) and the Oskar Kolberg Award (2002).
Her sculptures are in the museums of Bielsko-Biała, Kraków, Nowy Sącz, Rabka, Toruń, Warszawa, Żywiec, as well as in domestic and foreign private collections. The artist also created a private gallery of her works in the family Wieprz. In the gazebo next to the house she presented sculptures especially her dear ones: Madonna, Pieta, Pensive Christ and images of her children's patrons. It is worth adding that Saint. Jan Nepomucen is protected by the bridge leading to the Wieprz, and the pensive Christ is watching over the village.
---