Hulka Józef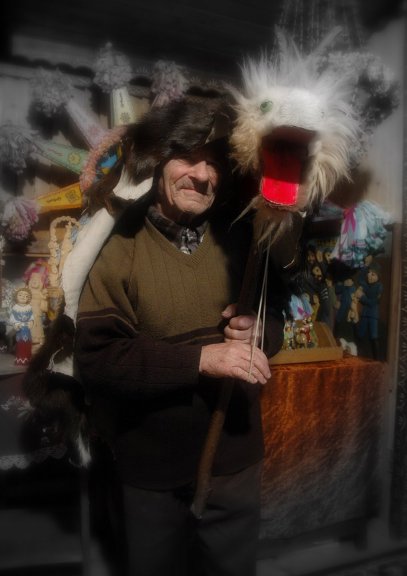 from Łękawica, born in 1926
Artist from the forefront of authentic folk artists. A warm man with an unusual talent and life wisdom. He was born on February 28, 1926 in Łękawica, where he lives to this day. He deals with painting on glass, sculpture in wood and stone, performs carol singers, masks and puppet cribs. All this is immersed in rural vision, understanding and interpreting the world. He started to sculpt in his early youth and in the 1950s he belonged to the group of esteemed folk sculptors. Then he became interested in painting on glass – a field that was at that time disappearing from the Żywiec region. He also never forgot about carolling. With a hand-made crib, he went around the houses to sing carols and pastorals, which he has in his repertoire – just like the lyrics for the performances of Nativity plays – a lot.
In the work of Jan Hulka, sacral themes dominate (images of the Holy Mother, Christ, saints, biblical scenes), although the artist also preserves genre scenes from village life, ancient traditions, historical and literary figures. The same topic is most often implemented in several variants. His works are characterized by simplicity and masterful precision. It is worth to mention that most of the works were performed together with his wife Anna Hulka.
He cooperated with Cepelia, he belongs to the Folk Artists' Assosiation. Many times, as part of folklore education, he conducted workshops for children, youth and adults, providing knowledge and skills in creating folk art works.
Józef Hulka won the highest prizes in prestigious competitions. He participated in many exhibitions – including foreign ones (in France, Germany, the Czech Republic, Slovakia, Hungary), and fairs of folk art and folklore events. He was honored with many decorations and medals, including the Oskar Kolberg Award (1992) – together with his wife and the Award of the Marshal of the Silesian Voivodship for popularizing culture (2014).
The artist's works can be found in ethnographic museums, art galleries (including his own, run in Łękawica since 1991) and private collections.
---