Wałach Zbigniew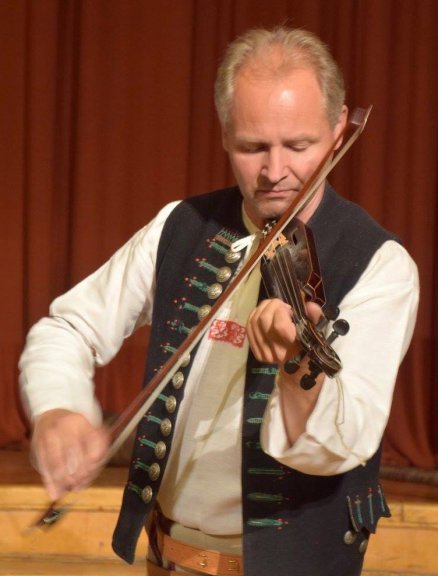 from Istebna, born in 1961
A musician and composer who comes from a line of artists (painters, poets, musicians) – he discovers what is the most beautiful in traditional music. A distinguished regionalist, thanks to whom the young come back to their roots and play the music of their own region. He was born on April 23, 1961 in Istebna. He had contact with art since childhood. Jan – the nestor of the Wałach family, was a well-known painter, a pupil of such masters as Julian Fałat and Józef Mehoffer. He had a great influence on the development of Zbigniew Wałach's artistic passions – he was the first serious authority, as did Father Franciszek and Antoni Michałek uncle; all three of them played the violin. The house was always full of music – especially during holidays and meetings with relatives. The Wałach family attached great importance to maintaining the continuity of traditions, customs and rituals of the Beskid highlanders. Hence Zbigniew's passion for the history and culture of his region. A deeply rooted tradition will always survive, but you still need to look for ways to support it, emphasizes the artist.
Zbigniew Wałach plays the violin, "gajdy" (kind of bagpipe), pipes, builds instruments ("gajdy", pipes, reeds, pastoral horns) and teaches them to play. As he says: Through music, man expresses his deepest feelings, he corresponds with the inner state. With its help, we are transferring into the modernity a certain baggage of tradition, a memory that reaches the world of our masters, predecessors. And the instruments, the way they are performed and the sound, with great ease allow not only to give their own moods, but at the same time to go back in time. Because the essence of music lies in its communication functions, going beyond the boundaries of the real material world and everyday life. He raised many young violinists and "gajdosze" (bagpipers). One of his first students was Jan Kaczmarzyk, with whom he played in Wałasi band. He also cares for the continuity and development of traditional music in his region – he teaches children first of all, but shares his knowledge with everyone willingly. Sharing musical experiences is part of my passion. I do not keep secrets because I'm still looking for myself. Continuous movement is a state that provokes development. [...] Leaving my experience to others, I go further. [...] It is natural that at some point the student leaves the master and creates his own reality so that he can fulfill his world. The ultimate goal is the student's independence. [...] If we are able to discover ourselves for others, then new horizons will appear in front of us.
Currently, Zbigniew Wałach presents the old traditional melodies to the world, giving them a new sense and sound. The participation of own invention, imagination and, above all, the soul, is the basis of his creativity. He released several CDs with traditional music and his own compositions. Also establishes cooperation with musicians representing other music regions and genres, including with Jan Karpiel-Bułecka, Kazimierz Urbaś (Torka band), Andrzej and Bolesław Niedoba (from Mosty near Jabłonków), Skalni (from Kraków), with Bartłomiej Kudasik, Wojciech Topa, Sebastian Karpiel-Bułecka; as well as with Antek Gluza, Czesław Węglarz, Józef Broda, Józef Skrzek, Stanisław Deja, Lasoń brothers, Pospieszalski brothers, Barbara Pakura. In addition, he continues to actively participate in the cultural life of his town, contributing to the growing interest in musical culture and local tradition.
He is a laureate of the prestigious prize in the field of folklore Oskar Kolberg Award, which he received together with Jan Kaczmarzyk in 2004 for cultivating tradition, teaching the young generation and the whole of creative work. He also received prizes of the Minister of Culture and Art, the Cieszyn Poviat in the field of culture, the Laurel of Silver Cieszynianka. He was a scholarship holder of the Ministry of Culture and National Heritage.
---
---